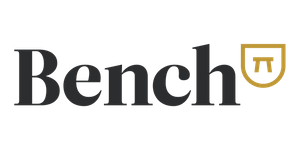 Bench is the all-in-one financial solution that helps you grow your business. Get your bookkeeping, tax prep, and filing done by experts—with unlimited advisory services.
Pricing Starting at $249/mo.
Bench provides small business owners a bookkeeping, financial insights, tax, and advisory solution without the costly CPA price tag. With Bench, clients are paired with a one-on-one bookkeeper to work with throughout the year and into tax season, where they'll work with your existing CPA or your Bench Tax representative for a seamless tax season.